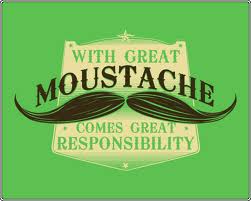 The views expressed here are entirely from Russ's moustache. We don't know yet if it is an evil moustache or a good one. We do know that it has a mind of its own and it's AWESOME and not creepy like some moustaches. Read on for some interesting viewpoints.
Bamboo Bar Overhead Carry
Russ had no time to write, so he shot a video, and a  video is worth a thousand words.
To perform this movement you will need strong shoulders, torso and posterior chain.
This is not a beginner exercise.
You'll also need a bamboo bar, which TPS has.
Oh wait, you also need bands.
We have those too at the Front Desk.